Our research lies at the interface between (i) mathematical engineering and machine learning; (ii) physical instrumentation and analytical chemistry; and (iii) application domains such as life sciences and medicine. We explore new ways of acquiring, processing, and mining the massive (multi-terabyte) datasets that spectral imaging modalities such as imaging mass spectrometry and other molecular imaging modalities can produce.
Our research commonly involves:
Below you can find a few examples of our output in these areas.
Dimensionality Reduction
 & Unsupervised Machine Learning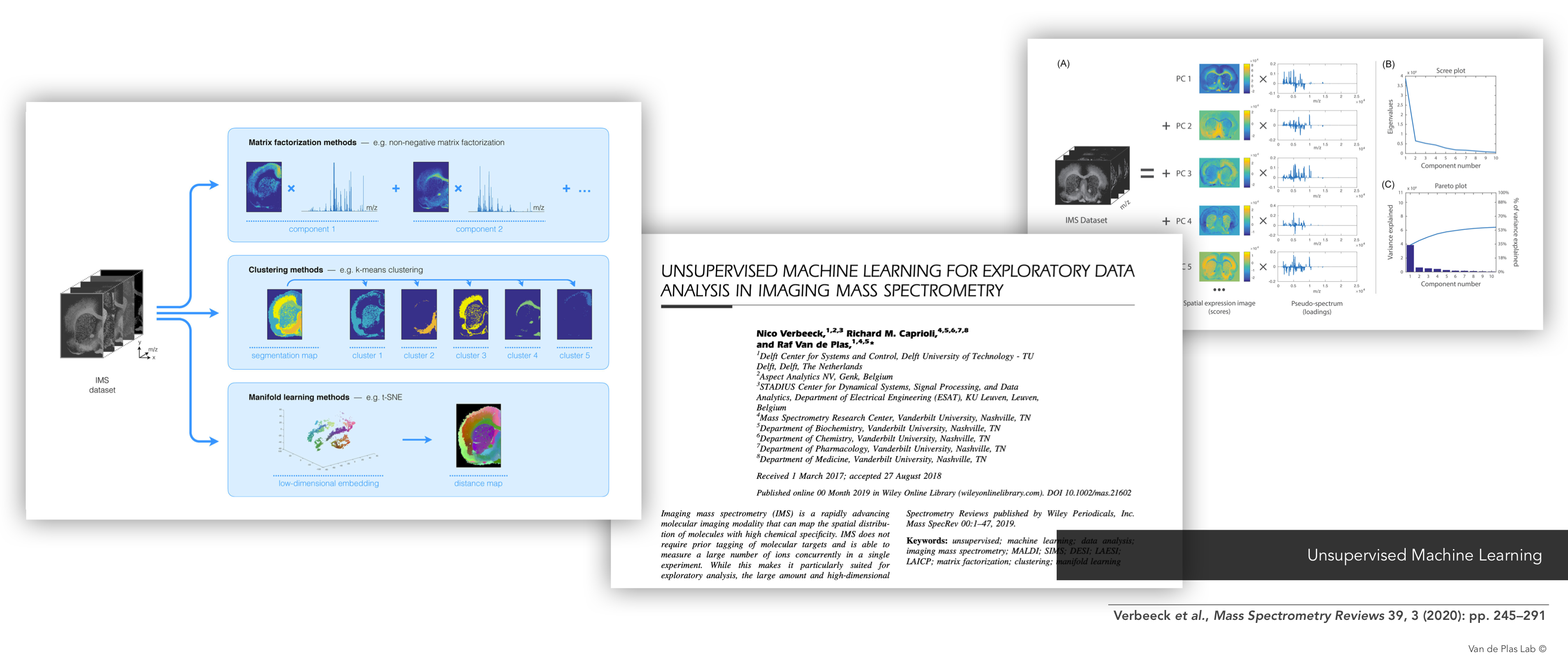 Supervised Machine Learning
 & Explainable Artificial Intelligence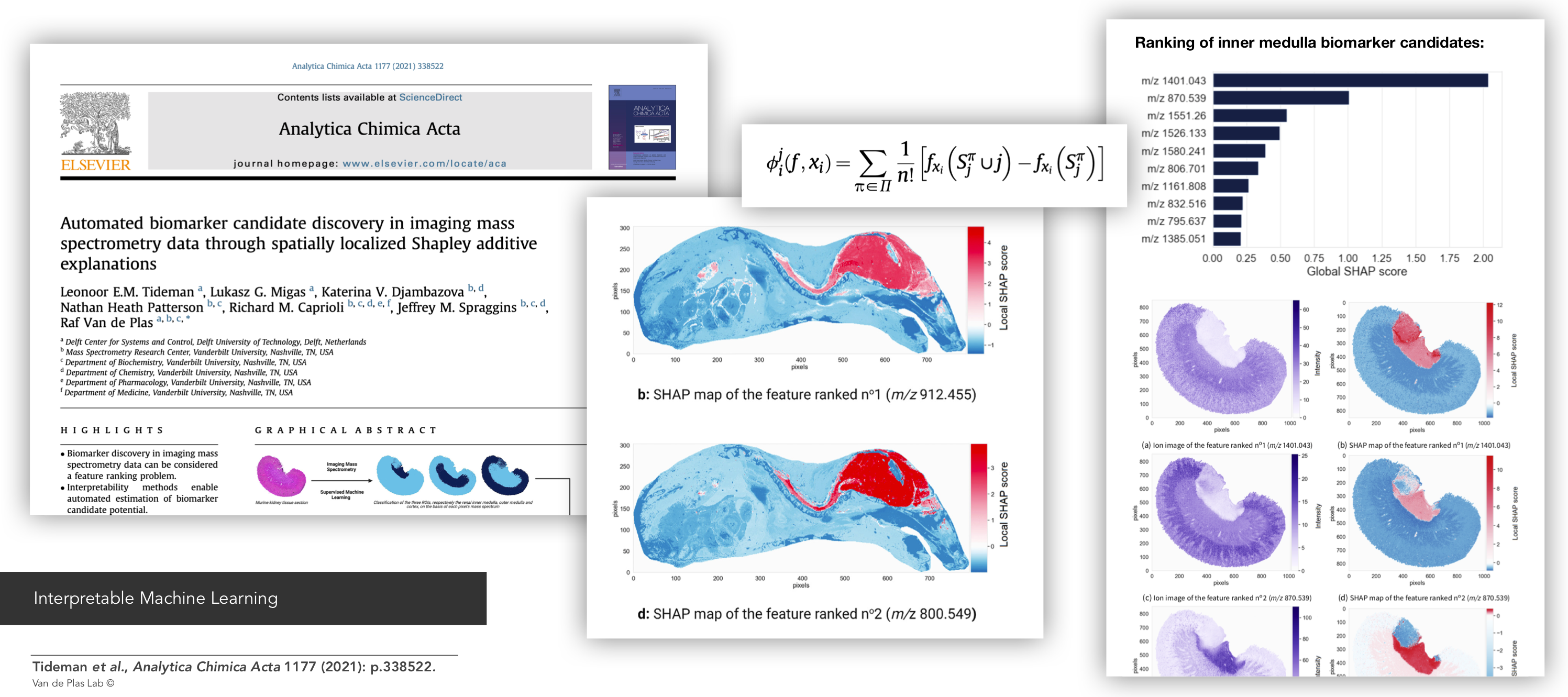 Multi-modal Analysis, Multi-source Integration, and Image Fusion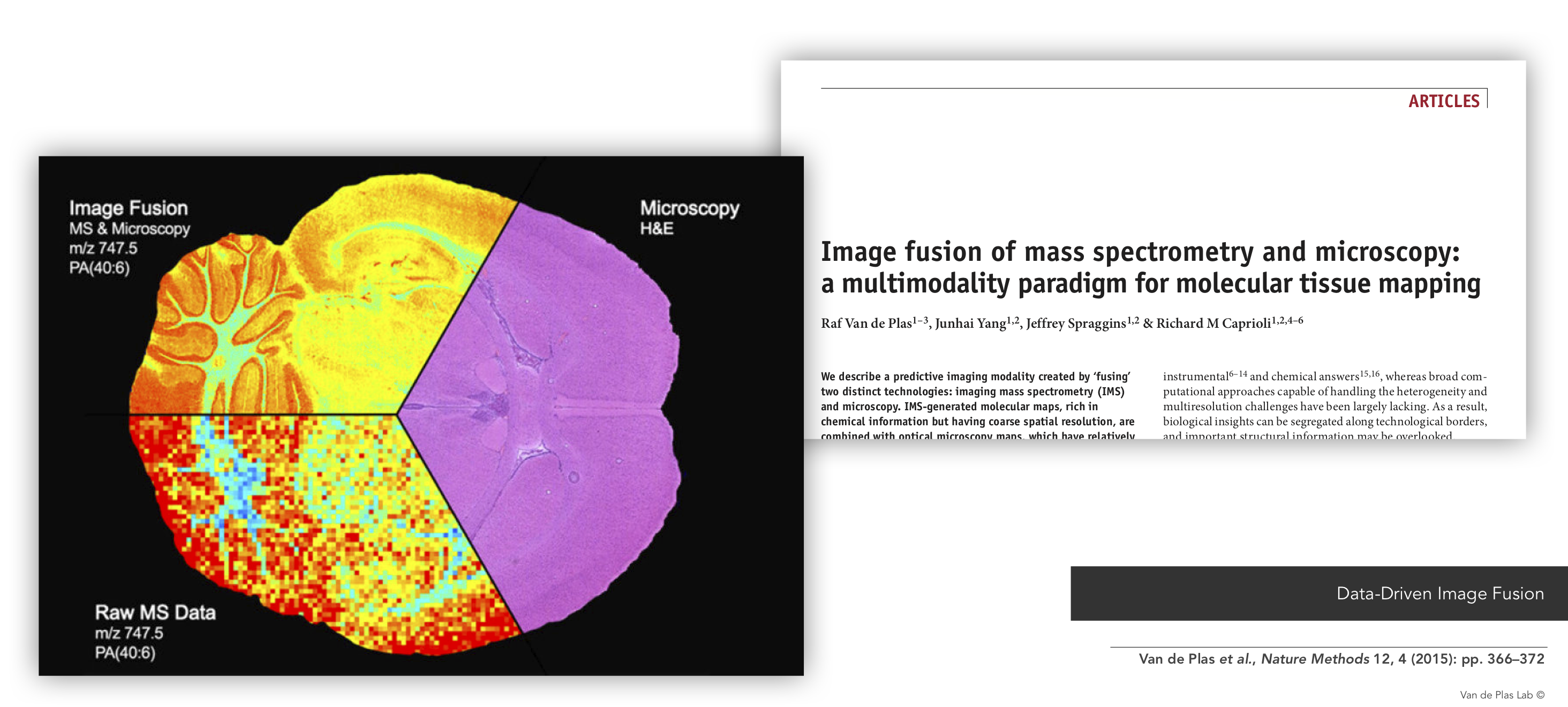 Signal Processing & Registration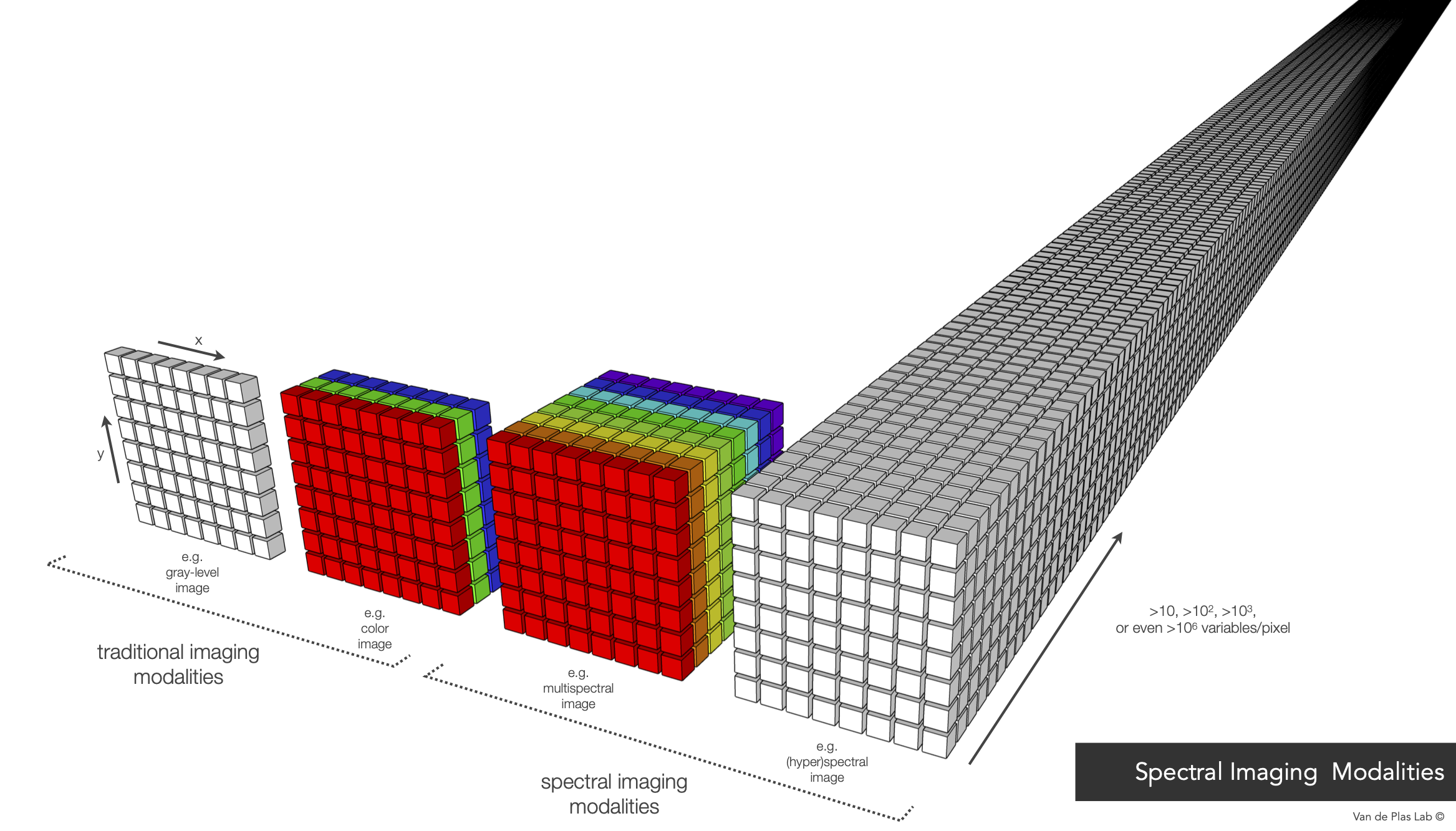 N. H. Patterson, E. K. Neumann, K. Sharman, J. Allen, R. Harris, A. B. Fogo, M. de Caestecker, R. M. Caprioli, R. Van de Plas, and J. M. Spraggins, "Autofluorescence microscopy as a label-free tool for renal histology and glomerular segmentation,"

bioRxiv

, 2021. doi:10.1101/2021.07.16.452703
[BibTeX] [Abstract] [Download PDF]


Functional tissue units (FTUs) composed of multiple cells like the glomerulus in the kidney nephron play important roles in health and disease. Histological staining is often used for annotation or segmentation of FTUs, but chemical stains can introduce artefacts through experimental factors that influence analysis. Secondly, many molecular -omics techniques are incompatible with common histological stains. To enable FTU segmentation and annotation in human kidney without the need for histological staining, we detail here the use of widefield autofluorescence (AF) microscopy as a simple, label-free modality that provides detailed renal morphology comparable to periodic acid-Schiff (PAS) stained tissue in both formalin-fixed paraffin-embedded (FFPE) and fresh frozen samples and with no tissue processing beyond sectioning. We demonstrate automated deep learning-based glomerular unit recognition and segmentation on PAS and AF images of the same tissue section from 9 fresh frozen samples and 9 FFPE samples. All training comparisons were carried out using registered AF microscopy and PAS stained whole slide images originating from the same section, and the recognition models were built with the exact same training and test examples. Measures of recognition performance, such as the Dice-Sorensen coefficient, the true positive rate, and the positive predictive value differed less than 2% between standard PAS and AF microscopy for both preservation methods. These results demonstrate that AF is a potentially powerful tool to study human kidney tissue, that it can serve as a label-free source for automated and manual annotation of tissue structures.

@article{patterson2021h,
author = {Patterson, Nathan Heath and Neumann, Elizabeth K and Sharman, Kavya and Allen, Jamie and Harris, Raymond and Fogo, Agnes B and de Caestecker, Mark and Caprioli, Richard M and Van de Plas, Raf and Spraggins, Jeffrey M},
journal = {bioRxiv},
year = {2021},
title = {Autofluorescence microscopy as a label-free tool for renal histology and glomerular segmentation},
doi = {10.1101/2021.07.16.452703},
url = {https://doi.org/10.1101/2021.07.16.452703},
abstract = {Functional tissue units (FTUs) composed of multiple cells like the glomerulus in the kidney nephron play important roles in health and disease. Histological staining is often used for annotation or segmentation of FTUs, but chemical stains can introduce artefacts through experimental factors that influence analysis. Secondly, many molecular -omics techniques are incompatible with common histological stains. To enable FTU segmentation and annotation in human kidney without the need for histological staining, we detail here the use of widefield autofluorescence (AF) microscopy as a simple, label-free modality that provides detailed renal morphology comparable to periodic acid-Schiff (PAS) stained tissue in both formalin-fixed paraffin-embedded (FFPE) and fresh frozen samples and with no tissue processing beyond sectioning. We demonstrate automated deep learning-based glomerular unit recognition and segmentation on PAS and AF images of the same tissue section from 9 fresh frozen samples and 9 FFPE samples. All training comparisons were carried out using registered AF microscopy and PAS stained whole slide images originating from the same section, and the recognition models were built with the exact same training and test examples. Measures of recognition performance, such as the Dice-Sorensen coefficient, the true positive rate, and the positive predictive value differed less than 2% between standard PAS and AF microscopy for both preservation methods. These results demonstrate that AF is a potentially powerful tool to study human kidney tissue, that it can serve as a label-free source for automated and manual annotation of tissue structures.},
}

J. M. Spraggins, K. V. Djambazova, E. S. Rivera, L. G. Migas, E. K. Neumann, A. Fuetterer, J. Suetering, N. Goedecke, A. Ly, R. Van de Plas, and R. M. Caprioli, "High-Performance Molecular Imaging with MALDI Trapped Ion-Mobility Time-of-Flight (timsTOF) Mass Spectrometry,"

Analytical Chemistry

, vol. 91, iss. 22, pp. 14552-14560, 2019. doi:10.1021/acs.analchem.9b03612
[BibTeX] [Abstract] [Download PDF]


Imaging mass spectrometry (IMS) enables the spatially targeted molecular assessment of biological tissues at cellular resolutions. New developments and technologies are essential for uncovering the molecular drivers of native physiological function and disease. Instrumentation must maximize spatial resolution, throughput, sensitivity, and specificity, because tissue imaging experiments consist of thousands to millions of pixels. Here, we report the development and application of a matrix-assisted laser desorption/ionization (MALDI) trapped ion-mobility spectrometry (TIMS) imaging platform. This prototype MALDI timsTOF instrument is capable of 10 μm spatial resolutions and 20 pixels/s throughput molecular imaging. The MALDI source utilizes a Bruker SmartBeam 3-D laser system that can generate a square burn pattern of <10 × 10 μm at the sample surface. General image performance was assessed using murine kidney and brain tissues and demonstrate that high-spatial-resolution imaging data can be generated rapidly with mass measurement errors <5 ppm and ∼40 000 resolving power. Initial TIMS-based imaging experiments were performed on whole-body mouse pup tissue demonstrating the separation of closely isobaric [PC(32:0) + Na]+ and [PC(34:3) + H]+ (3 mDa mass difference) in the gas phase. We have shown that the MALDI timsTOF platform can maintain reasonable data acquisition rates (>2 pixels/s) while providing the specificity necessary to differentiate components in complex mixtures of lipid adducts. The combination of high-spatial-resolution and throughput imaging capabilities with high-performance TIMS separations provides a uniquely tunable platform to address many challenges associated with advanced molecular imaging applications.

@article{spraggins2019g,
author = {Spraggins, Jeffrey M and Djambazova, Katerina V and Rivera, Emilio S and Migas, Lukasz G and Neumann, Elizabeth K and Fuetterer, Arne and Suetering, Juergen and Goedecke, Niels and Ly, Alice and Van de Plas, Raf and Caprioli, Richard M},
journal = {Analytical Chemistry},
volume = {91},
number = {22},
pages = {14552-14560},
month = {11},
year = {2019},
title = {High-Performance Molecular Imaging with MALDI Trapped Ion-Mobility Time-of-Flight (timsTOF) Mass Spectrometry},
doi = {10.1021/acs.analchem.9b03612},
url = {https://doi.org/10.1021/acs.analchem.9b03612},
abstract = {Imaging mass spectrometry (IMS) enables the spatially targeted molecular assessment of biological tissues at cellular resolutions. New developments and technologies are essential for uncovering the molecular drivers of native physiological function and disease. Instrumentation must maximize spatial resolution, throughput, sensitivity, and specificity, because tissue imaging experiments consist of thousands to millions of pixels. Here, we report the development and application of a matrix-assisted laser desorption/ionization (MALDI) trapped ion-mobility spectrometry (TIMS) imaging platform. This prototype MALDI timsTOF instrument is capable of 10 μm spatial resolutions and 20 pixels/s throughput molecular imaging. The MALDI source utilizes a Bruker SmartBeam 3-D laser system that can generate a square burn pattern of <10 × 10 μm at the sample surface. General image performance was assessed using murine kidney and brain tissues and demonstrate that high-spatial-resolution imaging data can be generated rapidly with mass measurement errors <5 ppm and ∼40 000 resolving power. Initial TIMS-based imaging experiments were performed on whole-body mouse pup tissue demonstrating the separation of closely isobaric [PC(32:0) + Na]+ and [PC(34:3) + H]+ (3 mDa mass difference) in the gas phase. We have shown that the MALDI timsTOF platform can maintain reasonable data acquisition rates (>2 pixels/s) while providing the specificity necessary to differentiate components in complex mixtures of lipid adducts. The combination of high-spatial-resolution and throughput imaging capabilities with high-performance TIMS separations provides a uniquely tunable platform to address many challenges associated with advanced molecular imaging applications.},
}

N. H. Patterson, M. Tuck, R. Van de Plas, and R. M. Caprioli, "Advanced Registration and Analysis of MALDI Imaging Mass Spectrometry Measurements through Autofluorescence Microscopy,"

Analytical Chemistry

, vol. 90, iss. 21, pp. 12395-12403, 2018. doi:10.1021/acs.analchem.8b02884
[BibTeX] [Abstract] [Download PDF]


The correlation of imaging mass spectrometry (IMS) with histopathology can help relate novel molecular findings obtained through IMS to the well-characterized and validated histopathology knowledge base. The quality of correlation between these two modalities is limited by the quality of the spatial mapping that is obtained by registration of the two image types. In this work, we develop novel workflows for MALDI IMS-to-microscopy data registration and analysis using nondestructive IMS-compatible wide field autofluorescence (AF) microscopy combined with computational image registration. First, a substantially automated procedure for high-accuracy registration between IMS and microscopy data of the same section is described that explicitly links the MALDI laser ablation pattern imaged by microscopy to its corresponding IMS pixel. Subsequent examination of the registered data allows for high-confidence colocalization of image features between the two modalities, down to single-cell scales within tissue. Building on this IMS-microscopy spatial mapping, we furthermore demonstrate the automated spatial correlation between IMS measurements from serial sections. This AF-registration-driven inter-section analysis, using a combination of nonlinear AF-to-AF and IMS-to-AF image registrations, can be applied to tissue sections that are prepared and imaged with different sample preparations (e.g., lipids vs proteins) and/or that are measured using different spatial resolutions. Importantly, all registrations, whether within a single section or across serial sections, are entirely independent of the IMS intensity signal content and thus unbiased by it.

@article{patterson2018q,
author = {Patterson, Nathan Heath and Tuck, Michael and Van de Plas, Raf and Caprioli, Richard M},
journal = {Analytical Chemistry},
volume = {90},
number = {21},
pages = {12395-12403},
month = {11},
year = {2018},
title = {Advanced Registration and Analysis of MALDI Imaging Mass Spectrometry Measurements through Autofluorescence Microscopy},
doi = {10.1021/acs.analchem.8b02884},
url = {https://doi.org/10.1021/acs.analchem.8b02884},
abstract = {The correlation of imaging mass spectrometry (IMS) with histopathology can help relate novel molecular findings obtained through IMS to the well-characterized and validated histopathology knowledge base. The quality of correlation between these two modalities is limited by the quality of the spatial mapping that is obtained by registration of the two image types. In this work, we develop novel workflows for MALDI IMS-to-microscopy data registration and analysis using nondestructive IMS-compatible wide field autofluorescence (AF) microscopy combined with computational image registration. First, a substantially automated procedure for high-accuracy registration between IMS and microscopy data of the same section is described that explicitly links the MALDI laser ablation pattern imaged by microscopy to its corresponding IMS pixel. Subsequent examination of the registered data allows for high-confidence colocalization of image features between the two modalities, down to single-cell scales within tissue. Building on this IMS-microscopy spatial mapping, we furthermore demonstrate the automated spatial correlation between IMS measurements from serial sections. This AF-registration-driven inter-section analysis, using a combination of nonlinear AF-to-AF and IMS-to-AF image registrations, can be applied to tissue sections that are prepared and imaged with different sample preparations (e.g., lipids vs proteins) and/or that are measured using different spatial resolutions. Importantly, all registrations, whether within a single section or across serial sections, are entirely independent of the IMS intensity signal content and thus unbiased by it.},
}
Contributions in Mass Spectrometry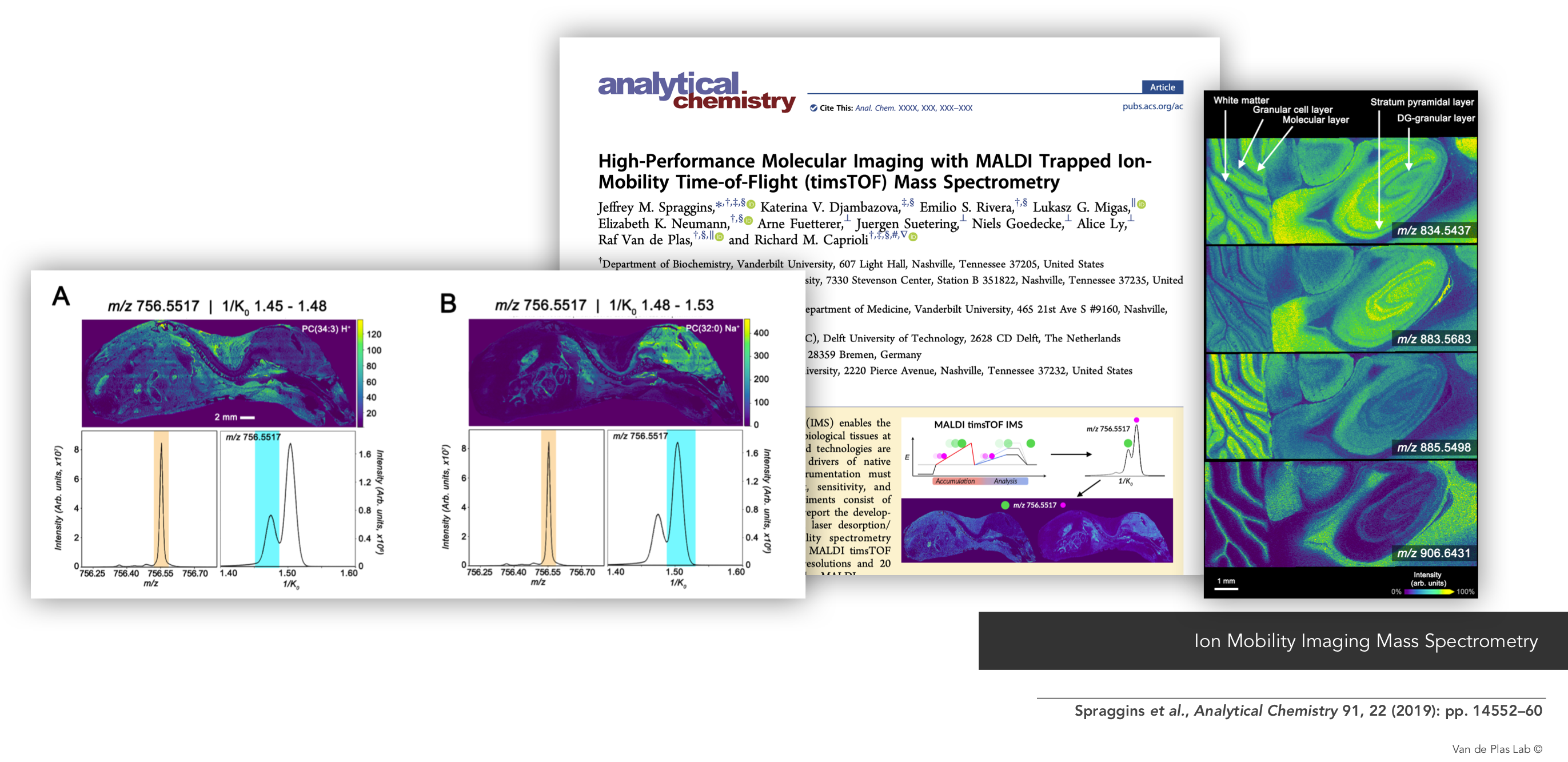 Contributions in the Life Sciences — Cancer
Contributions in the Life Sciences — Bacterial Infection & Host-Pathogen Interactions
W. J. Perry, A. Weiss, R. Van de Plas, J. M. Spraggins, R. M. Caprioli, and E. P. Skaar, "Integrated molecular imaging technologies for investigation of metals in biological systems: A brief review,"

Current Opinion in Chemical Biology

, vol. 55, pp. 127-135, 2020. doi:10.1016/j.cbpa.2020.01.008
[BibTeX] [Abstract] [Download PDF]


Metals play an essential role in biological systems and are required as structural or catalytic co-factors in many proteins. Disruption of the homeostatic control and/or spatial distributions of metals can lead to disease. Imaging technologies have been developed to visualize elemental distributions across a biological sample. Measurement of elemental distributions by imaging mass spectrometry and imaging X-ray fluorescence are increasingly employed with technologies that can assess histological features and molecular compositions. Data from several modalities can be interrogated as multimodal images to correlate morphological, elemental, and molecular properties. Elemental and molecular distributions have also been axially resolved to achieve three-dimensional volumes, dramatically increasing the biological information. In this review, we provide an overview of recent developments in the field of metal imaging with an emphasis on multimodal studies in two and three dimensions. We specifically highlight studies that present technological advancements and biological applications of how metal homeostasis affects human health.

@article{perry2020t,
author = {Perry, William J and Weiss, Andy and Van de Plas, Raf and Spraggins, Jeffrey M and Caprioli, Richard M and Skaar, Eric P},
journal = {Current Opinion in Chemical Biology},
volume = {55},
pages = {127-135},
month = {04},
year = {2020},
title = {Integrated molecular imaging technologies for investigation of metals in biological systems: A brief review},
doi = {10.1016/j.cbpa.2020.01.008},
url = {https://doi.org/10.1016/j.cbpa.2020.01.008},
abstract = {Metals play an essential role in biological systems and are required as structural or catalytic co-factors in many proteins. Disruption of the homeostatic control and/or spatial distributions of metals can lead to disease. Imaging technologies have been developed to visualize elemental distributions across a biological sample. Measurement of elemental distributions by imaging mass spectrometry and imaging X-ray fluorescence are increasingly employed with technologies that can assess histological features and molecular compositions. Data from several modalities can be interrogated as multimodal images to correlate morphological, elemental, and molecular properties. Elemental and molecular distributions have also been axially resolved to achieve three-dimensional volumes, dramatically increasing the biological information. In this review, we provide an overview of recent developments in the field of metal imaging with an emphasis on multimodal studies in two and three dimensions. We specifically highlight studies that present technological advancements and biological applications of how metal homeostasis affects human health.},
}

J. E. Cassat, J. L. Moore, K. J. Wilson, Z. Stark, B. M. Prentice, R. Van de Plas, W. J. Perry, Y. Zhang, J. Virostko, D. C. Colvin, K. L. Rose, A. M. Judd, M. L. Reyzer, J. M. Spraggins, C. M. Grunenwald, J. C. Gore, R. M. Caprioli, and E. P. Skaar, "Integrated molecular imaging reveals tissue heterogeneity driving host-pathogen interactions,"

Science Translational Medicine

, vol. 10, iss. 432, 2018. doi:10.1126/scitranslmed.aan6361
[BibTeX] [Abstract] [Download PDF]


Diseases are characterized by distinct changes in tissue molecular distribution. Molecular analysis of intact tissues traditionally requires preexisting knowledge of, and reagents for, the targets of interest. Conversely, label-free discovery of disease-associated tissue analytes requires destructive processing for downstream identification platforms. Tissue-based analyses therefore sacrifice discovery to gain spatial distribution of known targets or sacrifice tissue architecture for discovery of unknown targets. To overcome these obstacles, we developed a multimodality imaging platform for discovery-based molecular histology. We apply this platform to a model of disseminated infection triggered by the pathogen Staphylococcus aureus, leading to the discovery of infection-associated alterations in the distribution and abundance of proteins and elements in tissue in mice. These data provide an unbiased, three-dimensional analysis of how disease affects the molecular architecture of complex tissues, enable culture-free diagnosis of infection through imaging-based detection of bacterial and host analytes, and reveal molecular heterogeneity at the host-pathogen interface.

@article{cassat2018v,
author = {Cassat, James E and Moore, Jessica L and Wilson, Kevin J and Stark, Zach and Prentice, Boone M and Van de Plas, Raf and Perry, William J and Zhang, Yaofang and Virostko, John and Colvin, Daniel C and Rose, Kristie L and Judd, Audra M and Reyzer, Michelle L and Spraggins, Jeffrey M and Grunenwald, Caroline M and Gore, John C and Caprioli, Richard M and Skaar, Eric P},
journal = {Science Translational Medicine},
volume = {10},
number = {432},
month = {03},
year = {2018},
title = {Integrated molecular imaging reveals tissue heterogeneity driving host-pathogen interactions},
doi = {10.1126/scitranslmed.aan6361},
url = {https://doi.org/10.1126/scitranslmed.aan6361},
abstract = {Diseases are characterized by distinct changes in tissue molecular distribution. Molecular analysis of intact tissues traditionally requires preexisting knowledge of, and reagents for, the targets of interest. Conversely, label-free discovery of disease-associated tissue analytes requires destructive processing for downstream identification platforms. Tissue-based analyses therefore sacrifice discovery to gain spatial distribution of known targets or sacrifice tissue architecture for discovery of unknown targets. To overcome these obstacles, we developed a multimodality imaging platform for discovery-based molecular histology. We apply this platform to a model of disseminated infection triggered by the pathogen Staphylococcus aureus, leading to the discovery of infection-associated alterations in the distribution and abundance of proteins and elements in tissue in mice. These data provide an unbiased, three-dimensional analysis of how disease affects the molecular architecture of complex tissues, enable culture-free diagnosis of infection through imaging-based detection of bacterial and host analytes, and reveal molecular heterogeneity at the host-pathogen interface.},
}
Contributions in the Life Sciences — Endometriosis
Contributions in the Life Sciences — Tissue Atlases & Other